Applications
Hi premeds! We often get asked, "how to get into Vanderbilt medical school?" This page serves as a high-yield resource for Vanderbilt Medical School. The information from this page is a GOLDEN resource. Vanderbilt School of Medicine is located in Nashville, Tennessee. We've compiled it from Vanderbilt Medical School acceptance rate data, the Vanderbilt Med School website, and most importantly, from Vanderbilt med students themselves! You will have facts such as Vanderbilt Medical School admissions statistics and tips for getting accepted to Vanderbilt School of Medicine.
Whether you're comparing medical schools that you have been accepted to, preparing for an interview, or wanting to learn more about Vanderbilt Med School, keep reading!
Why Choose Vanderbilt Medical School?

The most common reasons we've heard from students:
Supportive school
Flexible curriculum with the ability to do other interests at your own pace
Ample time to explore your passions in healthcare
Only one year of pre-clinical curriculum
Great clinical training
Solid match list for residency
Applications
There is two main essays for the Vanderbilt School of Medicine secondary application.  This includes the infamous vanderbilt autobiography secondary. You have to make this both personal and captivating.
Read our helpful blog post about tips about your autobiography for medical school applications: How To Write An Autobiography For Medical School
Vanderbilt School of Medicine Secondary Application Essay Prompts:
Essay 1) Autobiography: Write a brief autobiography. As completely and precisely as possible, give a picture of yourself, your family, and events you consider important to you. In doing so, identify the values that are of greatest importance to you. If you have completed your undergraduate education, please comment on what you have done or have been doing since graduation. (1200 words)
Essay 2) Challenge: Please discuss a challenging situation or obstacle you have faced in the past. Why was it challenging? How did you handle it? Knowing what you know now, would you do anything differently? What did you learn? (500 words)
If you have questions about Vanderbilt Medical School's secondary application, email us at info@crackingmedadmissions.com or contact us.
NEED HELP WITH EDITING YOUR
VANDERBILT SECONDARY ESSAYS?
Vanderbilt Medical School
Interview Format
Interviews at Vanderbilt Medical School are traditional one-on-one interviews.
To ace your traditional interview, you need to know how to answer common medical school interview questions. It's important to practice, practice, practice.
Cracking Med Resources for Interviews:
Contact us if you want to schedule a mock interview with our Cracking Med School Admissions team! Take a look at our interview packages.
download your interview guide
If you are prepared, the interview gives you the perfect opportunity to standout and shine by sharing with people what you are passionate about.
Vanderbilt Medical School Acceptance Rate
Vanderbilt University Medical School Admissions Statistics:
Vanderbilt Med School Average GPA: 3.84
Vanderbilt Med School Average MCAT: 520 (130 chemical & physical / 129 critical analysis / 130 biological & biochemical / 131 psychological, social)
How did Vanderbilt University Medical School Students Do on Their USMLE Step Exams?
Average Vanderbilt University Medical School USMLE Step 1 Score: 247
Average Vanderbilt University Medical School USMLE Step 2 Score: 250
Source: U.S. News Graduate School Rankings 2021
Your medical school application Coaches, Mentors, & Cheerleaders
We Personally Advise Every Student We Work With
Changing the trajectory of people's lives
Undergraduate
Princeton University
Medical School
Stanford School of Medicine
Residency
Harvard, Emergency Medicine
Awards & Scholarships
Fulbright Scholar
USA Today Academic First Team
Tylenol Scholarship
Rishi Mediratta, M.D., M.Sc., M.A.
Advising students to attend their dream schools
Undergraduate
Johns Hopkins University
Medical School
Stanford School of Medicine
Residency
Stanford, Pediatrics
Awards & Scholarships
Marshall Scholar
Tylenol Scholarship
Global Health Scholar
Each year, the Cracking Med School Admissions team
helps students get accepted to top medical schools.
We can help you get accepted!

Contact us today.
The Insider's View on Vanderbilt Medical School's Pre-clinical years
How to Get Into Vanderbilt Medical School Tip – Know the Curriculum:
Vanderbilt Medical School Curriculum: Overview 
As a Vanderbilt med student, you only do pre-clinical work for the first year of medical school. Then, you do your core rotations starting September of your second year of medical school. After one year of clinical rotations, you can take your USMLE Step 1. You have ample time to do research and advanced clinical clerkships throughout the rest of your 3rd and 4th years of medical school.
Check out Vanderbilt Medical School's Curriculum 2.0!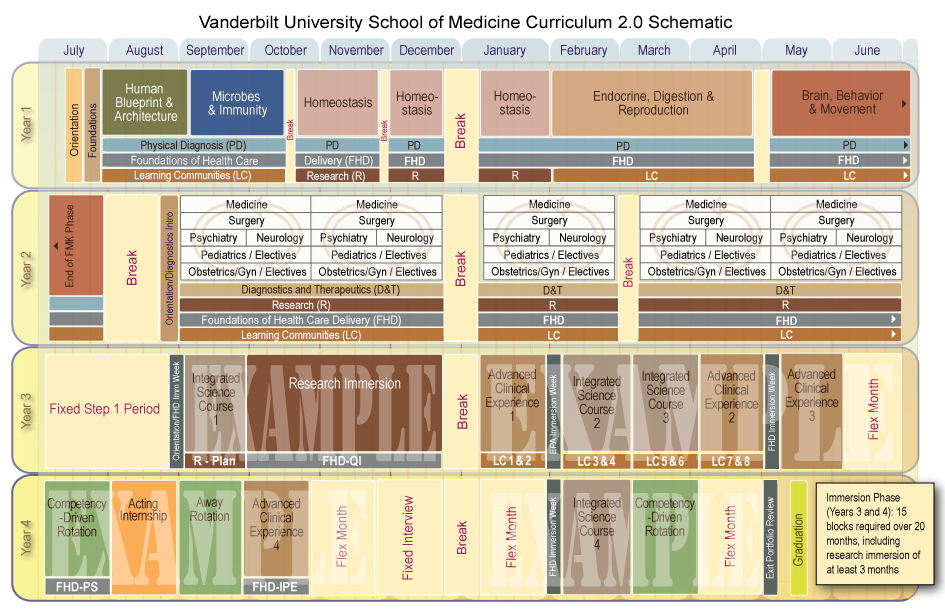 Pre-Clinical Years:
As an Vanderbilt medical student, your first year is based on basic science. 1.5 years are on basic science.  Vanderbilt has a core curriculum where you have to learn 25 common presenting patient problems, like abdominal pain and back pain.
How to get into Vanderbilt Medical School – Know Unique Characteristics:
Unique highlights about pre-clinical years:
One year!
Ample time to do research
Special Dual Degree Programs:
MD/PhD
MD/MPH
MD/MS
MD/MB
MD/JD
MD/MA
Taking Time Off:
Most MD candidates at Vanderbilt Medical School graduate within 4 years. However, because of the shortened pre-clinical curriculum, there is ample time (almost a year) to pursue other academic interests or do a joint degree.
What students are saying about Vanderbilt Medical School
I came into medical school married and with 1 kid. The flexibility in the curriculum allowed me to take care of my family while studying medicine.
The curriculum is EXTREMELY flexible.
What a supportive community - both faculty and students.
I grew up in California and I was worried about diversity - I was pleasantly surprised at how diverse the backgrounds are of my med school classmates!
The Insider's View on Vanderbilt Medical School's clinical Years
Vanderbilt University Medical School Clinical Curriculum:
Clinical Years:
You start clinical rotations September of your second year at Vanderbilt Med School. This is much earlier than almost every other medical school!
Unique highlights about clinical years:
Immersion in research for at least 3 months – research doesn't have to mean basic science research or clinical research. You can do research in policy or patient safety!
During your second year of medical school
2 full years to explore your clinical interests
What students are saying about clinical rotations at Vandy Med
There is so much time to explore your interests. I was debating between anesthesia and emergency medicine and the curriculum gave me time to do specialized rotations and sub-internships in both fields.
I appreciate that we do a research block after one year of rotations. I am able to link my clinical knowledge with research.
There is an emphasis of research backing clinical decisions. The school fosters leadership in clinical medicine and research.
Where do students live?
Students mainly live in apartments around Vanderbilt Medical School.  Students live in the quaint town of Nashville, Tennessee.  
Getting around:
Almost all students have a car, especially for their rotations.  It is possible to live walking distance from the Vanderbilt University campus and Medical Center.
Financial Considerations:
Vanderbilt Medical School Tuition and Fees: ~$59,000
Average indebtedness of 2019 graduates: ~$170,000
Source: U.S. News Graduate School Rankings 2021
Cracking Med School Admissions Resources
Here are useful Cracking Med School Admissions resources:
Read our other popular school blogs here:
Ask Us a Question.
We help Students just like you Get Into Medical School Each Year!